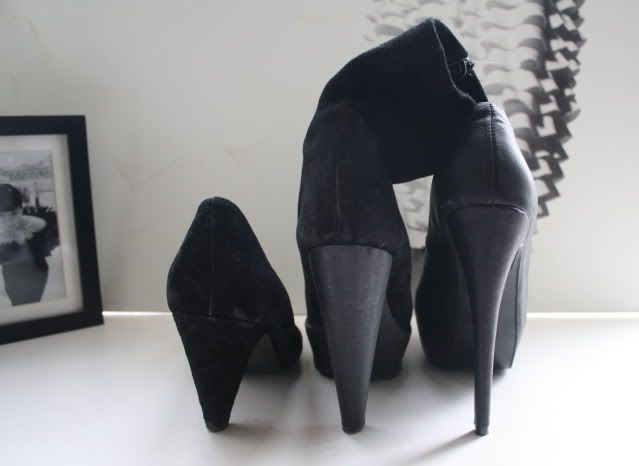 The shoes to the left is my first pair of high heels. Back then I thought they were sooooo high, and I couldn't imagine walking in them more than 2 hours, after that my feet were burning.
In 2009 I fell in love with these Zara boots in Rome on a vacation with my family. It was july and the sun was burning down on us, I'm sure my dad thought I'd turned insane when I bought a pair of black boots in that kind of heat.. Unfortunately the heel broke at a party and they were absolutely impossible to walk in. I was so sad - they had also become a bloggers favorite and therefore I loved them even more ;-) Anyways I went to Zara, explained my situation and they were so sweet to give me a new pair, since then we have had a lot of fun moments together.
The last pair are also new newest shoe purchase, they're from Nelly and I think the highest shoe I own. - Now I couldn't imagine wearing the first pair, waaaaay too low for me... But I seriously hope I have reach the height limit of my high heels fetisch or else I need to search for heels in porn shops...